**LEAGUE RESTART NOTICE**
UPDATED JULY 1ST
Following up on the recent announcements from the Provincial Health Officer on easing COVID-19 restrictions (BC Restart Plan Phase 2) and the updates from Volleyball BC dated July 1st, Topspin is excited to announce that its Summer outdoor volleyball season will resume under normal operations. Topspin's Summer Outdoor League is scheduled to officially begin on July 6th/7th. We will be running co-ed 3s/4s on Tuesday and Wednesday nights until August 24th/25th. If you are interested in registering a team for Topspin's 2021 outdoor Summer league, please contact us.
*For those players who would like to play more volleyball, a discount on league fees is available for players who play both Tuesday and Wednesday nights. Competitive and recreational skill levels are welcome on both nights.
Topspin's Outdoor Volleyball League 2021
Topspin offers outdoor volleyball leagues (two sessions) starting in May going through to August.
When? Tuesday & Wednesday nights; 6:30 pm - 8:30 pm (or when it's dark)
Summer Dates: July 6th/7th - August 24th/25th (Space is available, unless restrictions change)
Where? Beckwith Park
Format? Co-ed 3s/4s. Sign up as a team of 3 or as a team of 4. Will one extra player make the difference? (1 female player must be on the court at all times during play)
How Much? 
2021 Summer Session: 
Co-ed 3s: $210/team
Co-ed 4s: $280/team
If you have any questions or would like to register for an Outdoor League, please CONTACT US.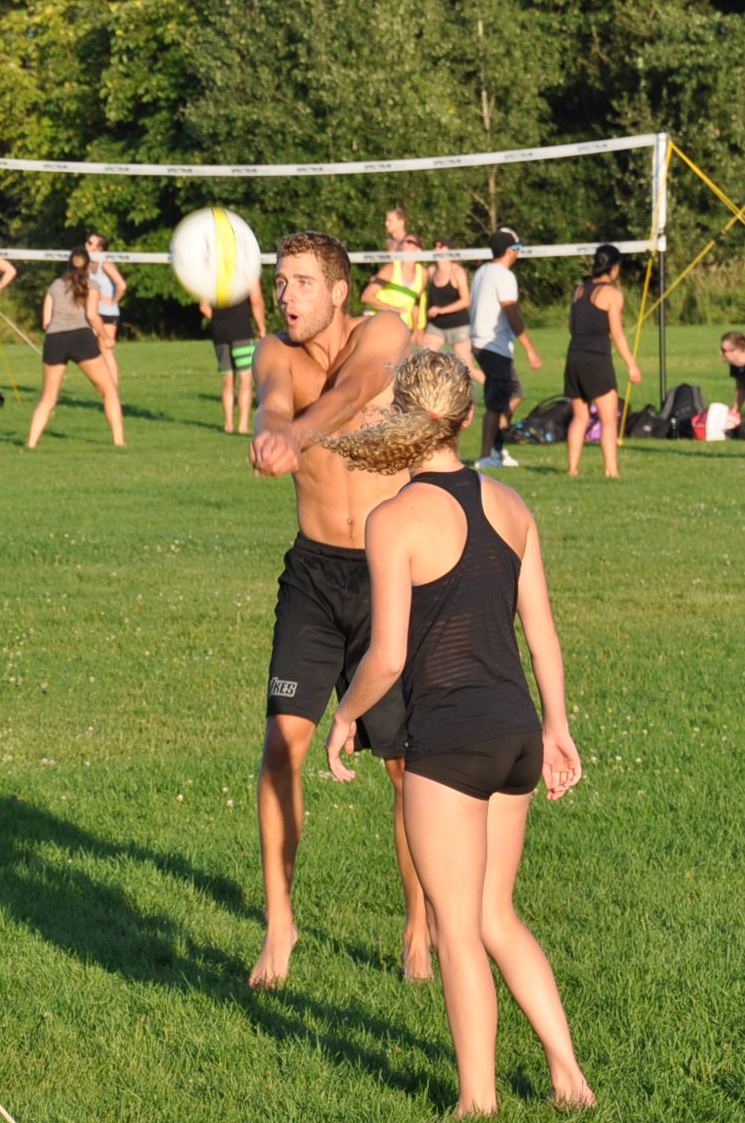 Outdoor Rules:
No setting the serves, your hands must be touching together or overlapped.

Players can set free-balls

Players cannot set the ball over the net or to opponents.

Jump serves allowed.

Serve anywhere behind the baseline.

No open hand tips, either ball goes off knuckle or roll shot.

Net serves are in play.

Play ball with any part of body.

First contact coming over to your side may hit you multiple times if one motion (eg. ball boucing off your arms and then your face).

Block doesn't count as first contact.

May go under the net as long as you don't make contact with opponent or interfere with play.

Please call your own net fouls. No touching any part of the net.

If you step foot in an adjacent court before touching the ball, the play is dead/automatic side-out.

Anyone can hit from anywhere, there's no rotation on court except you must follow same serving sequence.

If there's a tie in score when whistle is blown, team that won the point can decide to serve or receive for next point.

Decide before the game starts if you would like to switch sides every 10 pts or every game due to sun/wind.

Winners mark scores down, One person from the court reports scores to us, no scores marked = no points. 2 points full game 1 point partial game. Games that add up to 7 points will make a partial game. When there are substitute teams filling in, their games do not count. Overall winning team moves up and losing team moves down a division.

Games to 21 (cap 21).

Males are allowed to block females.

Must have at least 1 female on the court at all times during play.

If your team can't make it to play, call Fuji ASAP and your team will keep current spot or you'll get dropped a pool for not showing.

Players can play any position. 

Smoking (including vaping and cannabis use) and/or consumption of alcohol in the park during league play is not permitted.
Additional COVID-19 Rules:
All players must read and agree to the updated COVID-19 Outdoor Volleyball Policies & Guidelines.
• All players must bring their own water bottle. Water will not be provided by Topspin Volleyball for this Summer session.
• Do not shake hands or hi-5 with other players. Shaking hands or hi-5s with your own team members will be at your own discretion. At the end of a match, simply say "good game".
• When switching sides, move in a counter-clockwise direction towards the outside of the court.
• If a ball enters your court, gently kick the ball back to the correct court.
• Only 1 player at a time permitted at the schedule table.
• 1 player from the winning team will report the scores to a Topspin Organizer.
• Do not adjust any of the volleyball nets. If net adjustments are required, contact a Topspin Organizer.
• Do not take the volleyball nets down at the end of the night.
IMPORTANT!!
Due to the current health situation, all players participating in our leagues MUST READ & SIGN the Topspin Volleyball Participant Agreement. Players under the age of 18 years must have the Participant Agreement signed by a parent/guardian.
All players MUST READ & AGREE to our COVID-19 Outdoor Volleyball Policies & Guidelines.
All players MUST READ & AGREE to the Topspin Volleyball Illness Policy.
CLICK HERE for the Participant Agreement
CLICK HERE for the Topspin COVID-19 Outdoor Volleyball Policies & Guidelines
CLICK HERE for the Topspin Volleyball Illness Policy
CLICK HERE for the BC COVID-19 Self-Assessment Tool
Spring 2021 Outdoor League Pools
The pools will be posted on Sundays for league play on the following Monday, Tuesday and Wednesday. Please check this page on Monday, Tuesday or Wednesday afternoon for any changes to the pools.
A Pool
1.
Placement Killers (Mara Duong)
2.
Inappropriate Touches (Trevor MacPhail)
3.
Got Rice? (Susan Kwan)
4.
Crank 'n Shank (Mike Lane)
5.
MEAT (Jordan Yue)
6.
Steve's Team (Steve Morrison)
B Pool
1.
Kiss My Ace (Greg Lawson)
2.
Anthony's Team (Anthony Gutiernez)
3.
Chewblocka (Kyle Chow)
4.
Laura's Team (Laura Swiatlowski)
5.
Jessica's Team (Jessica Nguyen)
6.
Smooth Moves (Ron Mallon)
C Pool
1.
FamiLee (Megan Lee)
2.
Green Hops (Ken Dunlop)
3.
Bump, Set, Psych (Carl Chambers)
4.
Scott's Team (Scott Kwan)
5.
Baby Bumpers (Tim Murray)
6.
Twinkle Toes (Damian Dallyn)
D Pool
1.
Net Returns (Andrew Fung)
2.
Rav 4 (Rav Kumar)
3.
Bump, Set, Spirit Quest (Alex Austin)
4.
Fraser St. Gang ft. Big Daddy (Lindsey Sweet)
5.
Kelly's Team (Kelly Lachance)
6.
Sibling Discord (Jessica Sogai)
A Pool
1.
Chewblocka (Kyle Chow)
2.
Raw Talent (Donner Trinidad)
3.
Mark's Team (Mark McNeill)
4.
Straight Shots (Dalbir Sidhu)
5.
Jessica's Team (Jessica Nguyen)
6.
Al's Gals (Lily Blair)
B Pool
1.
Not Joel's Team (Joel Roediger)
2.
The Ball Crushers (Bruce Kwan)
3.
Misphits (Chris Gregory)
4.
Hustler (Emma Han)
5.
Too Legit to Hit (Becca Pettigrew)
6.
 
C Pool
1.
Doug's Team (Doug Harms)
2.
Sidney's Team (Sidney Thiessen)
3.
David's Team (David Owens)
4.
Phantom Troop (Arezou Hakimi)
5.
The Selkirk Rocks (Maciah Huang)
6.
 
A Pool
1.
Denzel (Ethan Loo)
2.
CAU (Leann Finlay)
3.
Too Legit to Hit (Colleen Plunkett)
4.
NAAK (Gillian Copley)
5.
BAMM (Annie Jorgenson)
6.
Block Party (Zachary Sagodi)
B Pool
1.
JAMS (Amanda Gillis)
2.
3R1L (Sidney Mowat)
3.
Ace (Bethany Murphy)
4.
Chaos (Marilyn Harris-Forster)
5.
Team GPS (Trishna Gill)
6.
Soul Crushers (Kim Cook)
C Pool
1.
BSS (Lily Kao)
2.
Sidney Spikers (Logan Saunderson)
3.
Net Ninjas (Jessica Sogai)
4.
BWEC (Jenn Trottier)
5.
ALEK (Steve Sagodi)
6.
Sweet Digs (Jesse Johnson)
WAIVER/DISCLAIMER
AS A CONDITION OF PLAYING IN ANY TOPSPIN VOLLEYBALL ORGANIZED LEAGUE, EACH PARTICIPANT ASSUMES ALL RISK OF PERSONAL INJURY, INFECTION, OR PROPERTY LOSS RESULTING FROM ANY CAUSE WHATSOEVER INCLUDING BUT NOT LIMITED TO PLAYING THE SPORT OF VOLLEYBALL OR PARTICIPATING IN ANY SPORTING EVENT OR LEAGUE HELD BY TOPSPIN VOLLEYBALL ASSOCIATION. EACH PARTICIPANT AGREES THAT TOPSPIN VOLLEYBALL ASSOCIATION SHALL NOT BE HELD LIABLE FOR ANY SUCH PERSONAL INJURY, INFECTION INCLUDING WITHOUT LIMITATION COVID-19, OR PROPERTY LOSS AND RELEASES TOPSPIN VOLLEYBALL ASSOCIATION AND ITS DIRECTORS, REPRESENTATIVES, AND SPONSORS FROM AND AGAINST ANY AND ALL CLAIMS THAT HE/SHE MAY HAVE AGAINST TOPSPIN VOLLEYBALL ASSOCIATION. BY PARTICIPATING IN ANY TOPSPIN VOLLEYBALL LEAGUE OR EVENT, THE PARTICIPANT HEREBY AGREES TO THE TERMS AND CONDITIONS OF THIS PARTICIPATION AGREEMENT.